Miami travel tips and attractions
Miami is located in Florida and the metropolitan area has around 5.5 million inhabitants. Miami is known to tourists for its warm climate and beautiful beaches, and those who want to let the sun shine on their fur in the cold German winter have come to the right place. Even in winter, temperatures do not drop below 20 degrees during the day, which means that Miami can be visited all year round. Between July and October, however, the hurricane season should be considered, which can make the weather in the sunny state of Florida very uncomfortable.
There is a risk of confusion with Miami and Miami Beach
When it comes to Miami as a travel destination, many people have Miami Beach in their heads, because this is where most of the city's tourist highlights are located. Miami Beach is an island in front of the city of Miami and where much of the tourist life of Miami takes place.
Ocean Drive, the Art Deco district and Little Havana are among the most famous sights in Miami (or actually Miami Beach). But Miami also has a lot to offer beyond that and is a great travel destination due to its location directly on the sea with pleasant temperatures all year round.
Flights to Miami are often cheap, and local prices are high
The price level in Miami and especially in Miami Beach is relatively high, especially the costs for hotels are higher than in many other American cities and visits to restaurants and bars often put a strain on the budget. However, flights to Miami are often very cheap from Germany, and those who strike a real bargain can get to Miami and back for less than 300 euros. The usual prices are between 450 and 550 euros, depending on the time of year.
Visiting these eight places is a must on a trip to Miami
These eight sights are part of every visit to Miami and should definitely be included in your travel program. Exploring Florida beyond Miami is also appealing, after all, the state has more to offer than just Miami. These highlights await within the city:
1. South Beach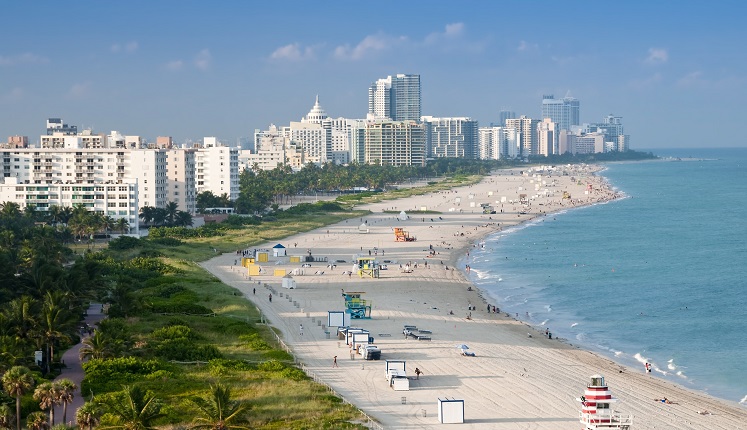 Miami Beach is a barrier island in front of the actual city of Miami and South Beach is probably the most famous section of Miami Beach. White sandy beaches, chic restaurants, bars and clubs and posh shops attract the well-heeled crowd in particular, but even with a tight travel budget, the drive over one of the four bridges that connect Miami with Miami Beach is worthwhile. For many locals, South Beach is too touristy, too expensive and too crowded. They prefer to spend their time on the beach in North Beach, which is a little quieter there.
2. Ocean Drive
The most famous street in Miami Beach is Ocean Drive. Lined with palm trees, it is all about seeing and being seen and the goings-on on Ocean Drive can be observed from numerous cafes. Joggers and inline skaters, bikers on beach cruisers, strollers and many expensive cars move along Ocean Drive and South Beach, and the streets around Ocean Drive are often referred to as Florida's Hollywood. If you are looking for celebrities, you will find it here.
3. South Pointe Park
If you want to escape the hustle and bustle of Miami Beach, you can do so well in South Pointe Park. Located directly on the Atlantic Ocean, South Beach can be overlooked, and in the late afternoon the cruise ships can also be observed from this point as they sail through the "Government Cut" canal.
4. Art Deco district
The Art Deco District is also in Miami Beach. There are around 800 Art Deco-style buildings that can be explored on your own or on a guided tour. All of these iconic houses were built between 1920 and 1940, many have been preserved in pastel colors and the Art Deco style is unmistakable. Both in the sunshine and in the evening when the neon lights of the buildings come on, the Art Deco district exudes a very special charm that Miami tourists should not miss.
5. Wynwood Quarter
The Wynwood Art District is Miami's official art district. Large-scale and elaborately designed graffiti (the Wynwood Walls) has been affixed to numerous house and warehouse walls, and the density of street art is higher here than in any other part of the city. Either on your own or with a guided tour, Wynwood can be explored in an afternoon. But there is also a lot going on in Wynwood in the evening, as hip bars and galleries attract numerous hipsters with whom the tourists can mingle.
6. Little Havana
Little Havana is a multicultural neighborhood in Miami where many Cuban exiles have settled. The central street and the hub of the entire district is Calle Ocho (SW 8th Street), which attracts with Cuban restaurants, Cuban bakeries, small shops and regular street parties. One of the highlights of Little Havana is Domino Park on the corner of SW 14th Avenue, where dominoes are played daily. Many players have been coming to this park to play for decades, and as a traveler you can watch them with confidence and even brush up your Spanish skills.
Another special feature in Little Havana is the Walk of Fame, on which, as in Hollywood in Los Angeles, stars with the names of famous Cubans were embedded in the floor. In general, it is advisable to just drift in Little Havana and soak up the flair of the district.
7. Bayside Marketplace
The Bayside Marketplace is a shopping arcade that was built to revitalize the Downtown Miami area. During the day there are many shops and restaurants waiting to be visited, in the evenings there are often smaller concerts and street artists present their skills.
8. Venetian Pool
In the Coral Gables district is the Venetian Pool. Carved out of coral stone, this public swimming pool, which is much more of a tropical swimming paradise and attracts with its special architecture, is one of the sights that Miami visitors should not miss. The district in which it is located alone is worth a drive. Chic houses and tropical landscapes round off the trip to the Venetian Pool, which costs a few dollars to enter. Except for a few days a year (Thanksgiving, Christmas ...) the Venetian Pool is open every day.