Restaurants have their own language
Gastronomy and Corona: The most important things at a glance
As of May 4th, 2021
There is information overload and some fake news is circulating on the net. It is more important than ever that restaurateurs have a reasonable basis of information in order to plan the next operational steps. In this article, we want to provide you with the most important answers to the questions restaurateurs are concerned with these days.
We were also faced with the question of how we, as retailers, can continue to support and have decided on a free GastroHero help hotline. Under the 0231/17727364 or in the chat below you can reach our gastronomy experts and talk to us about current events in the industry and ask questions (Mon-Fri 8:00 a.m. to 5:00 p.m.). We wish all restaurateurs a lot of strength and confidence!
#heldenzeiten #standtogether
Topic overview:
The latest version
A current summary
What do I have to pay attention to as a restaurateur?
Crisis management: what can happen in the worst case and what help do restaurateurs get?
In the worst-case scenario: How should my employees behave?
Updates
May 4th, 2021, 4 p.m. - openings in sight
In the federal states of Bavaria and Lower Saxony there will be a stable incidence of less than 100 openings in the catering trade. At the federal level, there is currently a lot of discussion as to whether gastronomy may reopen with vaccination and testing. A regulation could already be adopted this week and open the door to culture, gastronomy and hotels if the incidence is below 100.
Bridging aid III
The improved bridging allowance III can still be requested until August 31, 2021. All information can be found on the website of the Federal Ministry for Economic Affairs and Energy.
April 16, 2021, 10:00 a.m. - reopening
Due to the corona pandemic, tourism was shut down in the last few weeks and months. From April 19, this should change as part of some model projects. Then the inner Bay of Lübeck, the resort of Büsum, the Schlei region with Eckernförde and the district of North Friesland with the holiday island of Sylt will welcome holidaymakers again. So the outdoor season and the first long-awaited openings are in the starting blocks
Are you prepared? Devices need to be checked, shift planning organized under special rules and much more. We have summarized everything that you need to consider when reopening in this article.
April 14th, 2021, 3:30 p.m. - Federal emergency brake
The Corona summit scheduled for April 12th has been canceled, instead the cabinet has initiated an amended infection protection law. This change - the "Federal Emergency Brake" for short, is intended to temporarily make it easier for the federal government to take action in the event of skyrocketing incidence values.
Limitations are currently already in use, but these are interpreted very loosely by the federal states. For this reason, the federal emergency brake is planned. When exactly the change in the law will be implemented and what this will mean for the catering industry, remains to be seen. We'll keep you up to date.
23.03.2021, 4 p.m. - Easter lockdown
The on March 22nd The corona summit has been held in lockdown until April 18th. extended. A special feature of the agreed regulations is the rest period from April 1st to April 5th, on which all shops have to close. The outdoor restaurants that may already be open are also affected and have to close their doors again for the time being.
How can you still cheer up Easter for you and your guests? One possibility would be to offer an Easter menu to-go and deliver a culinary Easter to your guests at home.
11.03.2021, 4 p.m. - opening of the outdoor areas
The last Corona summit brought outdoor catering a small step closer to reopening. We don't yet know when to open. When the time comes, the outside areas will be the first to open your doors. For this reason, we have summarized everything you need to know about successful outdoor dining in 2021 in this article. So start the season well prepared.
March 4th, 2021, 4:00 p.m. - Lockdown extension and opening steps
On March 3rd, the federal and state governments met again and decided to extend the lockdown until March 28th. However, initial easing steps give hope.
Opening steps
At this point in time there are 5 opening steps, which are strongly linked to the incidence values. The catering is in the 4th opening step. If the seven-day incidence remains stable below 50 14 days after the third opening step has been reached, outdoor restaurants are allowed to reopen their terraces. In regions with a stable incidence of 50-100 (14 days after the third opening step), outdoor catering may also open, but a daily quick test or self-test as well as prior appointment booking is necessary.
Emergency brake
If the incidence value rises above 100, the strict lockdown rules will come back into force.
outlook
Further relaxation for the catering sector and a possible opening of hotels will be discussed on March 22nd.
February 12, 2021, 3:00 p.m. - Update on lockdown and VAT reduction
The federal-state meeting on February 10th resulted in a further extension of the lockdown. For the time being, the current measures will largely be continued until March 7th.
Significance for the gastronomy & hotel industry
For restaurateurs and hotels there was no opening perspective on February 10th. In the resolution of the federal and state governments, it simply states that "we will continue to develop the next steps for a safe and fair opening strategy with regard to contact restrictions, of culture, sport in groups, leisure, gastronomy and the hotel industry".
future
The next opening step should only take place when a stable 7-day incidence of no more than 35 per 100,000 inhabitants is reached. After this value has been reached, retailers, museums, galleries and businesses with body-related services should open their doors again.
Economic aid
The application for bridging aid III is now online. You can find more information on the website of the Federal Ministry of Finance. Furthermore, on January 3rd, it was decided to extend the VAT reduction in the catering trade. The tax rate for meals in & out of the home will be 7 percent until December 31, 2022. We have summarized the most important things about VAT in our article.
January 20th, 2021, 1:30 p.m. - Lockdown tightening
On Tuesday, January 19, the federal and state governments met again and decided to extend the lockdown until February 14, 2021.
A new addition is the tightening of the mask requirement in public transport, shops and during church services. This means that medical protective masks must be worn, such as FFP2 masks, KN95 masks or surgical masks.
To the masks
January 7th, 2021, 10:00 a.m. - Lockdown Update
On January 6th, the federal and state governments met again and decided to extend and even tighten the current lockdown. The updates are briefly summarized below.
First of all, the current measures were extended until January 31, 2021. This means that the gastronomy, except for take-away services, as well as schools and daycare centers, will continue to be available as usual. The retail trade is also limited to only essential shops, such as groceries or drugstores.
A new addition is that company canteens will also be closed if possible. The contact restrictions have also been tightened. So now only 1 household can meet with one other person. And a new limit has also been set for handling new hotspots. If more than 200 new infections per 100,000 inhabitants occur within 7 days, you may only leave your place of residence within a maximum of 15 km radius without good reason.
The last point is the test obligation for travelers returning from risk areas.
How do you see the current situation and do you think the new regulations make sense? Feel free to write it to us in the comments.
December 17th, 2020, 2:30 p.m. - Your own take-away Christmas market
Christmas is just around the corner and some of you are already scoring points with their own take-away Christmas markets. The best way to prepare such a concept so that it generates profits as quickly as possible can be found in our new article.
December 16, 2020, 3:00 p.m. - tightening: hard lockdown
On Sunday, December 13th, the federal and state governments agreed on a so-called hard lockdown. The new measures apply from today, December 16, 2020.
Basically, it will work like it did at the beginning of the corona pandemic. In the retail sector, all shops that are not part of the food retail sector or everyday needs, such as animal feed stores, drug stores or pharmacies, are closed. A detailed list of all exceptions can be found here.
Contact restrictions
The contact restrictions are also being expanded again. For private meetings, there is an upper limit of 5 people who may come from a maximum of 2 households. Children up to the age of 14 are not counted. For the Christmas holidays from December 24th until December 26th The exception is that you can meet up with 4 other people who belong to the family circle beyond your own household.
For the period from December 16, 2020 to January 10, 2021, the consumption of alcoholic beverages in public spaces is prohibited.
Take-away and pick-up service
The catering industry can at least breathe a sigh of relief because, compared to the first hard lockdown, the delivery and collection of meals by catering establishments is still permitted.
Since the November aid has also been extended to the December weeks, it should, given the circumstances, be better than last time.
New Year's Eve
It was foreseeable that there would be a ban on events and large gatherings. But in order to prevent private fireworks as far as possible, the sale of fireworks before New Year's Eve should be banned. So far, however, there is no direct ban on setting off fireworks.
Expansion of economic aid
There will be bridging aid III, which will apply from January. The maximum grant for a company will be increased from 200,000 to 500,000 euros. In order to be able to provide faster aid, there should be advance payments similar to the November aid.
December 3rd, 2020, 12:00 p.m. - Subsidy has to be taxed - How you as a restaurateur can now save tax smartly.
Anyone who still invests in low-value assets in 2020 will benefit from tax savings! This means that if you invest in equipment for your company in December, this will reduce your tax burden for the current year, as the resulting tax burden can be offset directly:
Buy GWG with a value of € 250.01 to € 800 by the end of 2020.
Deduct the value of the asset from tax in the same year by means of an immediate write-off.
But what are so-called GWG (low value assets)? These are items that can be used independently and do not exceed a purchase price of € 800 net. So you can get everything out for the year again by investing in your equipment and at the same time benefit from the tax savings.
Here are a few examples that count as GWG and that may make your work easier in your company:
Kitchen accessories
Kitchen appliances
December 1st, 2020, 11:30 a.m. - The aid is being paid out - What do you have to do now?
November is over and the aid should be paid out soon. Nevertheless, some questions are still open. We answer the most important ones at a glance:
Who is eligible to apply?
All companies, businesses and self-employed who had to close their business by the resolution of October 28th. This also includes accommodation providers and event venues, but businesses that are indirectly affected can also apply for November Aid if 80% of your income can be proven to be generated by a business directly affected by the closure.
What is paid
Up to 75% of sales from November of the previous year will be reimbursed, but not in full. At the end of November, advance payments of € 5,000 for the self-employed and € 10,000 for companies will take place. For companies founded after November, the average from the previous months or October is used as a comparison value. If sales are made through take-away service, for example, despite closure, 25% of this is not taken into account. This means that you can get a maximum of 100% of the previous year's sales with the subsidies. By the way, the 75% paid has an upper limit of 1 million euros.
When can the aid be requested and when will it be paid out?
The November aid can be applied for since November 25th. Since the advance payments will start at the end of November, a plan for the rest of the payment is also in progress. The remaining amount should, however, be paid out promptly after the down payment.
What do the restaurateurs have to do to get the help?
Self-employed persons who have not yet received help can apply for a maximum of € 5,000 themselves without being checked by a third party, whereas companies that have already applied for bridging aid or expect more than € 5,000 in funding, as well as all non-self-employed persons, must hire a tax advisor or auditor .
What about December Aid?
The November aid, which is already running, will be extended into December. The conditions remain as they are now. However, it remains to be seen whether a new application is necessary for this, or whether the December months simply flow into the November aid calculation.
11/11/2020, 12:00 p.m. - November Lockdown - How to make the most of it!
When the new lockdown was announced, the mood among restaurateurs was understandably more than modest. The first lockdown has already left a lot of damage. "Will you survive a second?" Was the saying in many circles? Using a small calculation, we will show you that the damage caused by the second lockdown could possibly be less.
The federal government has now decided on final aid:
It is already certain that companies, self-employed persons and associations that are affected by the closure will get back 75% of the previous year's turnover from November. For younger companies, the previous average turnover is used as a benchmark.
It is still allowed to have food picked up or to offer a delivery service.
Accordingly, restaurateurs who offer a delivery service can theoretically come to 100% of the turnover from November 2019:
75% government aid + 25% additional delivery service sales = 100% previous year's sales
How do you see the current situation? Can you implement this possibility in yourself and do you see a chance to benefit from the new assistance? Feel free to write to us in the comments.
November 2nd, 2020, 1:00 p.m. - Corona aid for November 2020
What is paid
Compared to November of the previous year, 75% of the income is offset.
In companies with 50 or more employees, approx. 70% is offset.
For companies that were only founded this year, reference is made to October 2020
Who will receive the assistance?
All businesses that have to close due to the lockdown, such as
Restaurateurs
Solo self-employed
sports clubs
Hotels
Cinemas
cultural institutions
Operators of fitness studios and much more.
How do I get emergency aid in November?
The contact point for submitting the application is https://www.ueberbrueckungshilfe-unternehmen.de/
There will be a simplified application on the Bridging Aid website that applicants will have to fill out.
Since the implementation will take some time, there should be the possibility of advance payments as quick assistance.
What has not been clarified yet?
So far it has not been clarified whether companies that do not have to close, but still have to record massive losses in sales, will be compensated.
Even restaurateurs who are allowed to continue to offer delivery services have less sales. Nevertheless, there are no regulations here either.
Most important, however, is probably that it is still unclear when the aid can be applied for and from when it will be paid out.
October 30, 2020, 2:00 p.m. - #AlarmstufeRot
The event industry has been in a practical lock-down since March. Without new help it looks pretty bleak. Here and there a couple of smaller events were possible if the hygiene measures were observed, but it is impossible to make a living with them.The event management is now demonstrating under the hashtag #AlarmstufeRot and is calling for a "tailor-made" help program.
New help for companies and the self-employed was announced on Wednesday at the Corona summit. It should be reimbursed up to 75% in November compared to the previous year. It remains to be seen, however, how exactly the new aid packages will look and whether additional support will be decided specifically for the event industry.
How do you think about the planned help. Could you be enough this time and what other promises are you possibly making? Feel free to write us in the comments.
October 28, 2020, 3:30 p.m. - New lock-down from Monday, November 2nd, 2020
The new measures are being discussed at the current Corona summit. Some smaller points are still being clarified, but there are already some Germany-wide decisions that have been made.
From Monday November 2nd there will be a new lockdown.
The measures decided will start directly from Monday and are expected to apply for the whole of November. After 2 weeks there will be another meeting to adjust the measures if necessary.
In the following we have listed the resolutions that have already been made for you.
Gastronomy must close
Delivery service and collection are still allowed
Leisure facilities such as cinemas and sports studios have to close
Closing companies receive funding of up to 75% from the federal government
Tourist trips are largely prohibited
Only 10 people from 2 households are allowed in the public and private areas
Only 1 person per 10 square meters is allowed in retail
Makeup and nail studios, as well as tattoo studios, have to close
Hairdressers, schools and daycare centers remain open.
In summary, one can say that restaurateurs will be hit hardest by a new lock-down. Experts are already discussing whether the planned assistance is sufficient, whether it will also apply to businesses that have just opened this year, or whether for many this means a permanent closure of their businesses.
How do you feel about a new lock-down and what does it mean? Feel free to write us your opinion in the comments.
October 27, 2020, 3:00 p.m. - Update on bridging aid II
Furthermore, the federal government tries to give the companies and especially the gastronomy a helping hand. The bridging aid II, which affects the months September to December, can be applied for with immediate effect. As it is known that the risk of infection is higher in closed rooms than in public areas, outside catering is to be increasingly supported. Therefore, corona-related purchases, such as patio heaters and room air sterilizers, are subsidized. Furthermore, a possible bridging aid III is currently being discussed to extend the state funding until June 2021. It remains to be seen whether this will actually happen. Here are some answers to frequently asked questions. Have a look.
October 16, 2020, 1:30 p.m. - curfew for the catering trade -
These are the new Corona resolutions at a glance
For the first time, the federal and state governments have agreed on uniform rules for dealing with the pandemic. From now on, the measures will be prescribed according to a kind of traffic light system. If there are 35 new infections per 100,000 within a week, the first measures should be taken:
Masks must also be worn in public areas if the distance cannot be maintained
Celebrate in public rooms with 25 people and in private rooms with 15 people
Closing time for gastronomy regulated by the city (non-binding)
If the numbers even rise to 50 new infections, the measures should be tightened further.
The mask requirement is further interpreted
In public and private rooms, celebrations are only allowed with 10 people. For private celebrations, people may only come from 2 households
Other events are limited to 100 participants
Binding curfew at 11 p.m. for restaurants including a ban on selling alcohol
If the threshold of 50 new infections does not go back within 10 days, only 5 people from 2 households are allowed to meet in public space. No uniform regulation was passed on the prohibition of accommodation. Each federal state can still decide for itself.
In Berlin, some restaurants have already filed a lawsuit at short notice because they consider the curfew to be disproportionate. As a result, the curfew for these Berlin locations was initially suspended.
It remains to be seen whether the curfew will also be withdrawn for the other restaurants in the next few days.
Feel free to write us in the comments what you think of the new measures!
October 12th, 2020, 10:00 a.m. - Air filters for the catering industry -
A possibility to give guests security in the interior?
Autumn is already here and winter is not long in coming either. In order not to have to do without guests despite the cold season, the state has already extended the permit for the use of public spaces until the end of October. As a result, the restaurateurs should still have more space available for their outdoor activities. Unfortunately, since external operation is not possible for all locales, the next technical solution is now ready.
The air in the room is continuously renewed and disinfected using so-called room air purifiers. The masks already prevent viruses from spreading across the air and the air filters remove the viruses directly from the air and destroy them in the air purifier. The aim is to further increase hygiene standards and further minimize the risk of infection. As a result, it should be possible to host more guests again in the same area so that there is no drop in sales even in winter.
To the products
October 5th, 2020, 1:30 p.m. - Further tightening of the corona measures?
Since the number of corona infections has increased again, new measures were discussed on September 29, 2020. The following regulations could therefore come into force in the foreseeable future:
The upper limit for private celebrations is to be reduced to 25 participants. A maximum of 50 people should be allowed in public spaces. In addition, it remains open whether the maximum number of participants will be set to 10 people in private and 25 in public rooms if the number of new infections continues to rise.
Since some guests have given incorrect personal data in the past, a fine should also apply here. With the exception of Saxony-Anhalt, this is to be punished with € 50 in all federal states. In North Rhine-Westphalia € 250 should be paid and in Schleswig-Holstein even € 1,000. Of course, the restaurateurs cannot check this very carefully and ask for ID. Nevertheless, more attention should be paid to the data collection and whether the given data are plausible. In the case of information such as Donald Duck, you should then check again. At this point, however, restaurateurs do not need to worry that they will have to bear any costs for incorrect information.
September 23, 2020, 9:30 a.m. - Buffet offer during Corona - Just how?
Buffet offers have been allowed again in all federal states since September. But due to Corona, buffets are still not that easy to offer. That is why we have summarized for you in our buffet article how you can offer your buffet in compliance with hygiene standards.
Since a classic buffet is currently not possible in some restaurants, we also present some interesting alternatives.
14.09.2020, 9:00 a.m. - patio heaters for NRW! Who will follow?
On September 7th, Armin Laschet announced in an interview that there should be more focus on outdoor catering this winter as well. The state would like to support the restaurateurs and allows the setting up of patio heaters during Corona. This should allow more guests to be catered for in the winter season while observing the hygiene measures.
What do you think? Will the other federal states soon follow suit with the permit and is this a great help for the restaurateurs? -
Feel free to answer us in the comments.
07.09.2020, 3 p.m. - outdoor catering and Christmas markets
Good news for gastronomy in Cologne! On 02.09. it was decided to extend the outdoor catering until October 31, 2021. This gives the restaurateurs more flexibility and can achieve better sales. It remains to be seen whether the other cities will follow suit.
The Christmas markets, on the other hand, look much more difficult this year: the large Christmas markets at Cologne Cathedral and the old market were canceled early by the organizers. The city itself does not want to cancel a market, which is why it remains to be seen how the other markets will be.
Some other cities, such as Dortmund, Bochum and Essen, are already planning how you can have your Christmas market in 2020 under the applicable hygiene regulations.
04.09.2020, 1 p.m. - major events still prohibited
On August 27, 2020, the federal and state governments agreed to further contain the pandemic.
If it is not possible to trace contacts and comply with hygiene measures at a major event, it may not take place until the end of December this year. What kind of event and from what number of people these fall under such a large event, however, has not yet been regulated.
Trade fairs are initially excluded from the ban, which should also be beneficial for the catering industry. (Source)
08/28/2020, 11:00 a.m. - Improved billing of NRW emergency aid
The feedback process on the emergency aid for companies in North Rhine-Westphalia is to start again before the autumn break. Since there were still some disadvantages and inconsistencies here, it has now been revised. We have summarized for you what exactly the changes are in our help article.
August 26, 2020, 3:00 p.m. - The voices on the current situation
Our current impression is that there is still great uncertainty. Will there be a second lockdown or not? And if so, how do you prepare for it? We asked our followers on Instagram about their assessment of the general situation: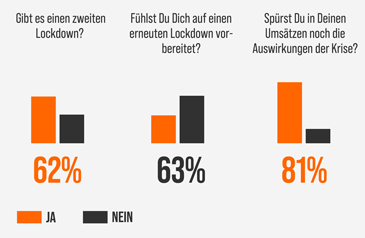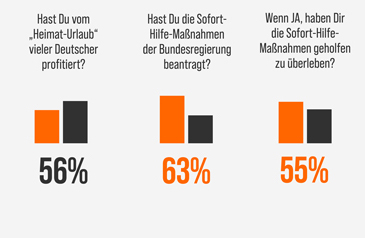 How do you see it Feel free to write it to us in the comments!
08/13/2020, 4:00 p.m. - Further training despite Corona? Definitely!
In times when many companies are struggling to survive, some employers are unsure of how to train new workers. Since the training of new generations must not be neglected, however, since August 4th it is possible to apply for training bonuses at the Federal Employment Agency.
We have summarized the most important things about the new offers of help in our article.
08/10/2020, 1:00 p.m. - Opening during Corona
Is that advisable or even possible? What changes when a restaurant opens in times of Corona? You can find out that and more in our new article.
July 20, 2020, 3:30 p.m. - Inform your guests
With all the constantly changing regulations at the moment, many restaurateurs and hotel owners are significantly restricted in their work and have to make some compromises in order to be allowed to continue their business. So that your guests can keep track of things, it makes a lot of sense to inform them about current restrictions and measures.
But how can I best inform my guests about changes?
The easiest way to keep your guests up to date is to update your company profile on Google My Business. You can adjust opening times, specify whether you are closed or only offer take-away. You can also inform your guests about a possible reservation requirement or draw their attention to current additional services, such as a delivery service. You can find out exactly how this works here.
These are just a few of the options you have on Google to keep your guests up to date. If you need an exact update guide specifically for hotels, or want to know what else is possible, take a look here.
July 10th, 2020, 2:30 p.m. - Sarcasm on the current situation
At times like Corona, it is not exactly easy to stay afloat in the hospitality industry. That's what Jo Riffelmacher from Salt & Silver thought when he came up with the idea for the #OhneGastroKeinHappyEnd campaign.
The idea behind this was that where one person can't move a lot, many can make a big difference. The aim of the campaign is to exert pressure on politicians as a community so that the government supports the restaurant scene in getting through the Corona crisis better.
Here are a few impressions: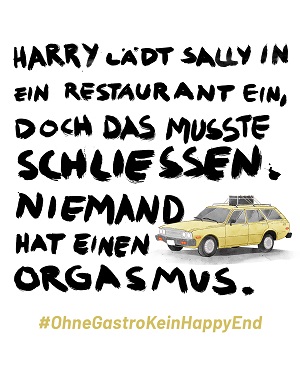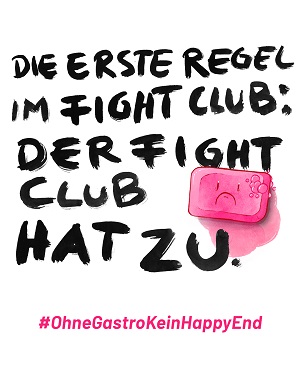 We think it's awesome! And you? Let us know in the comments!
July 1st, 2020, 1:40 p.m. - Everything about the VAT adjustment
Starting today, the value added tax in Germany will be adjusted. The standard VAT rate will be changed from 19% to 16% and the preferential tax rate will be changed from 7% to 5%.
What do you have to pay attention to? We have summarized everything you need to know here.
06/29/2020, 11:30 a.m. - Insights into the industry & interim conclusion - How could it go on?
The gastronomy has now been open again for a few weeks. How is the offer accepted by the guests? How do you best react to the change in the behavior of your guests? Omid Girakhou, the Quandoo Country Manager, has updated numbers for us. It gives an exclusive insight and gives recommendations for action for the catering industry. You can find the entire interview here.
June 23, 2020, 12:30 p.m. - Lockdown for the Gütersloh district
Due to an outbreak of the corona virus in a butcher's shop in the Gütersloh district, Prime Minister Armin Laschet was forced to put the entire district into another lockdown.
With immediate effect, contact restrictions apply again. People from one family or household or two people are allowed to be in public.
In contrast to the nationwide lockdown imposed at the beginning of the crisis, restaurants and eateries are allowed to remain open. However, this only applies to people from one household.
June 19, 2020, 1 p.m. - Relaxation in Bavaria and legal certainty in Baden-Württemberg
Yesterday Prime Minister Söder gave a press conference in which he announced far-reaching easing. Check out our reopening article for everything you need to know. How do you perceive the current situation? Is your restaurant well attended? Let us know in the comments!
June 4th, 2020, 10:30 a.m. - VAT adjustments through economic stimulus package
The GroKo resolves a 130 billion euro corona stimulus package. The package also includes a VAT adjustment: From July 1st, 2020 to December 31st, 2020, the VAT rate is to be reduced from 19 to 16 percent and for the reduced rate from 7 to 5 percent. This emerges from a decision paper of the federal government. Another tax relief also for the catering trade.
June 4th, 2020, 8:30 a.m. - Simple and digital visitor lists
Do you find the classic notes too time-consuming to record your guests' data? We have opened up a digital, free alternative to traditional paperwork for you. With GastroIdent you simplify the establishment of contact. The guest scans the QR code generated for you and enters their data independently. The data will be automatically deleted after 4 weeks. Further information on this, as well as a video tutorial can be found in our current blog post.
May 28, 2020, 12:30 p.m. - What happens if I don't adhere to the strict Corona regulations?
Some restaurateurs probably wanted to find the answer to this question themselves. We are increasingly receiving messages from restaurants that are closing and paying a fine due to disregard of the Corona regulations. As the operator, you will receive a notification of irregularities, but your guests can also expect fines. You can find out exactly what to expect in the event of a breach and what measures to take in our most recent article.
May 18, 2020, 9:15 a.m. - NRW is loosening up further
Since May 15th it is again allowed to offer buffets in NRW. The prerequisite for this is wearing a face mask and disinfecting your hands before each use.
In addition, as of Monday, other federal states will start catering.
Everything about the reopening of gastronomy after Corona can be found in our latest blog article.
May 12, 2020, 8:30 am - What you need to know about the reopening of the catering trade
The reopening has already taken place in some federal states, other federal states will follow. Not sure what to do? Then take a look at our new article!
In addition to all the official resolutions, you will also find a plan of action we have prepared for the reopening and the answers to your most frequently asked questions.
Go to Article
May 7th, 2020, 3:00 p.m. - A little digression to freshen up: the topic of hygiene in gastronomy
The opening of restaurants in many federal states that was decided yesterday raises the question of how you will work hygienically in this transitional period.
This question should of course keep you busy even after the Corona period. What exactly does HACCP contain and is it sufficient in times of Corona? We have compiled hygiene regulations with suitable examples for you.
Go to Article
May 6th, 2020, 4:00 p.m. - Chancellor comments on further openings
Chancellor Merkel, together with Bavarian Prime Minister Söder and Hamburg Mayor Tschentscher, has just announced that the opening of the process is a matter for the federal states. The federal requirement is: Only people from 2 households are allowed to come together. A table distance of at least 2m must be guaranteed. Every additional person must keep a safe distance between them.
In a separate article, we will summarize for you which regulations could also be useful. If there is any news we will of course also inform you via our newsletter. You can register at the top of the post.
05/05/2020, 4:00 p.m. - Gastronomy opening now throughout Germany after all?
Tonight there will be a video conference between all federal states. In this a specific point in time for the opening of catering establishments is to be decided. May 18th is suggested as a suggestion.
Bavaria's Prime Minister Söder announced this afternoon that they would like to handle it in a similar way to Lower Saxony and that the restaurants and hotels would be opened in May. Bavaria's step-by-step plan looks like this:
Outdoor areas are scheduled to open on May 18th, indoor eateries on May 25th and hotels on May 30th.
05/05/2020, 9:00 a.m. - Will it be relaxed tomorrow?
We found an exciting Facebook post: According to current surveys, around 65% of those surveyed would visit a restaurant again immediately if this is allowed.
When this will be the case nationwide remains questionable. Tomorrow our Chancellor will comment on possible easing. Lower Saxony is already moving ahead and opening the catering trade from next week. Of course, subject to strict conditions, but at least you can open it again. Are you prepared for it? We are currently preparing everything you need to know about a reopening. What should we not forget and what questions do you have? Write us in the comments and we will research for you.
April 28th, 2020, 11:30 a.m. - Are the restaurants open in individual federal states?
The states of Saxony and Saxony-Anhalt have agreed to relax the catering sector. In principle, the two countries agreed to open in May. The Minister of Economics Armin Willingmann (SPD) wants to make an appointment before the Ascension Day on May 21st.
Any opening will come with strict rules and measures. We are curious to see if and when other countries will concretize opening dates and revive the catering industry.
April 25, 2020, 3:00 p.m. - Relaxation for the catering industry - but how?
The VAT adjustment from July 1st, 2020 has brought the rumor mill to simmer. Why should the tax be reduced to 7%, which mostly only applies to local consumption?
So may gastronomy start again with on-site catering from July 1st? Questions about questions that we would like to discuss with you. How do you feel about the topic?
In your opinion, which points should be part of the hygiene concept? How do you intend to continue? Tell us: We give you the opportunity to vote on our Instagram profile.
April 23, 2020, 8:30 a.m. - More short-time work benefits, less taxes
Yesterday evening the government decided to adjust both the short-time work allowance and the VAT rate for the catering trade.
For those who work at least 50% less, the KUG is increased to 70% or 77% (household with children) from the 4th month onwards. From the seventh month onwards, the KUG is increased to 80% or 87%.
This rule applies until December 31, 2020 at the latest.
There was also a reduction in VAT for the catering industry. From July 1st, 2020, the VAT for meals will be reduced to the reduced tax rate of 7%. This offer of help is valid until June 30, 2021.
April 16, 2020, 9:00 a.m. - Innovations in the fight against Corona ...
... unfortunately not for us. Yesterday evening, Federal Chancellor Merkel announced new measures for the fight against the Corona virus together with the Bavarian Prime Minister Söder, the 1st Mayor of Hamburg Tschentscher and Federal Minister of Finance Scholz.
Unfortunately, nothing new came up for the catering and hotel industry. As before, both sectors may not be opened for the time being. Only the retail trade up to a size of 800m2 may gradually reopen its doors from March 4th, 2020 under strict hygiene regulations.
A small ray of hope: We have discovered another offer of help for you. Creditreform offers companies a free check and information that proves their creditworthiness by the required deadline of December 31, 2019.
You can find out more about this in our help article.
April 9th, 2020, 1:30 p.m. - Provisional payout freeze in NRW
In North Rhine-Westphalia, the government was able to uncover a scam in connection with the Corona emergency aid in cooperation with the State Criminal Police Office.
Unfortunately, this currently means that the emergency aid is temporarily not paid out. Legitimate applications can still be made and applications that have already been submitted will be paid out after the stop.
Here everything to read again.
April 7th, 2020, 9:15 a.m. - Breweries promise you help
Breweries play an important role in their role as tenants and debtors and have a significant influence on their liquidity. Many are currently offering help. We have researched for you:
We have updated which brewery provides which help in our help article.
April 3rd, 2020, 6:00 p.m. - At first we weren't sure ...
... whether a new delivery service can be successful in these times. And above all, whether the risk can be reduced to a minimum. After we were done with the research for our new article we could clearly say: It is possible!
Here you will find examples of successful delivery services, instructions, helpful tips and even a special offer for a free trial month for your own online ordering system:
Go to Article
March 31, 2020, 3:30 p.m. - Immediate aid now also in Hamburg and Saxony-Anhalt
Since late Monday evening, emergency aid can now also be applied for in Hamburg.
The state of Saxony-Anhalt has also been offering a corresponding form since this afternoon. This means that all federal states have made application forms available, if available.
You can find information on emergency aid in all federal states in our constantly updated help article.
March 30, 2020, 12:00 p.m. - Update help article
Over the past weekend, most of the applications for immediate help in the individual federal states went online. We have compiled all the forms and information for you in our help article.
Hamburg and Saxony-Anhalt are the only federal states where the forms should come in the course of today.
As soon as these are available, you will of course also find them in our article.
March 27, 2020, 10:00 a.m. - Help requests
156 billion euros are intended to support small businesses and self-employed individuals, among other things. The authorities are currently working flat out to make application forms available.
In North Rhine-Westphalia, for example, the application form can be filled out from noon today.
We assume that all federal states will provide a form over the coming weekend. On Monday we will update our help article with the available forms.
March 24th, 2020, 5:00 p.m. - GEMA and emergency aid
GEMA has taken measures for its customers in the course of the corona pandemic.
For all companies that had to close due to official orders, all monthly, quarterly and annual contracts are also retrospectively suspended from March 16, 2020.
Furthermore, the federal government launched an immediate aid package on Monday afternoon. What exactly this means for you will be published shortly in our help article.
03/23/2020, 8:00 a.m. -We are at somethingturn ...
An eventful weekend lies behind us. Due to the nationwide uniform contact block, restaurants are now closed. However, this still does not apply to delivery services and pick-up services. We understand that switching to a delivery service comes with a number of challenges. According to our consultation with you, the biggest problem is high commissions App provider demand. That's why we're currently in negotiations with some vendors to find the best deal for you. We have set up a mailing list that we can use to notify you as soon as we have something for you:
Register here and get more information
March 20, 2020, 2:00 p.m. -Solutions
The situation is getting worse. The only thing that helps us all now is not to bury our heads in the sand! True to the motto #heldenzeit and #supportyourgastro do we have one initiative launched, which asks you to support your gastronomy. Because even when the shops are closed, a delivery service and take away business are still allowed. You don't know what it takes to set up a delivery service or take away? We have summarized everything you need to know in our latest article:

To the article: Delivery service as an alternative
You can find there too Printable postersto ask your customers for support. It is now more than ever: #standtogether! Of course, we will continue to have an open ear for you via our hotline. Please only note that we have quickly integrated the info hotline into our GastroHero.de telephone sales channel in order to be able to help quickly. Accordingly, we are unfortunately not available at the weekend. On Monday, our gastro experts will be there for you personally again!
March 20, 2020, 1:00 p.m. - Bavaria presents the curfew
What does this mean for gastronomy in Bavaria? Only delivery services and takeaway offers are permitted. Thuringia acts similarly. There is no curfew here, but the gastronomy is no longer allowed to open. Hessen forbids catering from 12:00 p.m.
March 19, 2020, 4:00 p.m. - Updates on offers of assistance
We have meanwhile given up on hoping for a uniform regulation regarding opening times. In principle, the following still applies: closing time 6:00 p.m. There are the following exceptions:
NRW and Bavaria: 3:00 p.m.
Schleswig-Holstein: Gastronomy is prohibited
Saxony-Anhalt: No restriction yet
As you can see, everything is included from to. Basically, we believe that there will be no avoiding drastic restrictions. For this reason we have updated our article on financial aid again. You can find it here.
We have also obtained an official statement from the state of North Rhine-Westphalia, stating that it is basically the Pick-up and delivery service allowed after closing. The public order office of the respective city may, however, restrict this right and close operations completely. Is collection or delivery an alternative for you? We will research for you what needs to be considered there.
March 18, 2020, 3:30 p.m. - topic closings and short-time work
Today we discussed the issue of layoffs and alternatives with you intensively. The topic most often came up Short-time work to language. For this reason we have put together an article for you with all the information you need. Here is the article.
In addition to our hotline, we have also introduced a live chat in which you can exchange ideas with our gastro experts.
03/18/2020, 12:30 p.m. - We wait in vain ... but we have something!
Our phone calls with the Chamber of Industry and Commerce this morning showed that there are still no nationwide regulations for restaurateurs. Most are allowed to open at least a few hours a day. However, there is a debate among some shopkeepers as to whether they should close on their own initiative. How do you feel about it? Write us a comment or give us a call! For those who decide to keep opening up, of course some have to activities are adhered to (see last update). One of them is that every second table is not occupied. We have created a template for you that you can print out and place on the empty tables.
download PDF now
March 17th, 2020, 4:00 p.m. - We are waiting for a uniform regulation
We read a headline in the Tagesschau: "The hospitality industry calls for an end to regulation chaos". We think so too! Today we talked to many of you on the subject via our hotline. The uniform regulation from this morning no longer applies. For example, the restaurants in North Rhine-Westphalia should close at 3:00 p.m.
Today we also had the issue of whether ice cream parlors can continue to sell over the counter. We have found the following statement:
Restaurants and eateries should be allowed to stay open at least from 6 a.m. to 6 p.m. However, take-away or delivery of meals is possible at any time.
We hope for a uniform regulation from the government. Do you also have a topic on your mind? Give us a call! We have put together a few useful measures for the companies that are still open:
download PDF now
March 17th, 2020, 8:00 a.m. - Time restrictions
One applies to gastronomic establishmentsOpening time from 6:00 a.m. to 6:00 p.m.. It is currently unclear whether we will get a total ban in Germany, like our neighbors in Austria. However, a delivery service without customer traffic in the business premises is still permitted there. How do you feel about delivery service? Feel free to write us a comment or call our free help hotline! We will prepare more information on this.
A current summary
The borders are tight, schools and daycare centers are closed. The state tries to keep public life to a minimum in order to slow down the wave of infection and to keep the occupancy of the hospitals as low as possible.
What do I have to pay attention to now?
Our partner, DEHOGA, has published an official leaflet on the crisis. There you will find detailed information on 10 pages.
Here are the most important things at a glance:
The strict hygiene rules in gastronomy are now more important than ever.
Food is currently not seen as a carrier.
If the health department requests a closure, short-time work allowance can be applied for.
Employees suffering from Corona are entitled to a salary in accordance with the Continued Remuneration Act.
In the event of an epidemic / pandemic, the higher force takes effect and the guest is released from his obligation to pay in the event of cancellation.
If a business is closed, you should contact your insurance company immediately.
You can download the leaflet here.
Crisis management
In difficult situations it always helps to take a sober and objective look at the worst case. What can happen in the worst case and what options do I have in this situation? One thing is certain: there will also be a time after the crisis and we hope to record as few losses as possible. In order for this to work, we have compiled all financial assistance offers for you.
Click here for the article.
Of course, your employees are also worried about their jobs. Is short-time working an alternative for you after the massive operational restrictions in the catering scene? We'll summarize for you in a nutshell what you can do now as a restaurateur: Here it goes.
Employee training in the corona case
Of course you shouldn't panic, but you should approach the topic with the necessary seriousness. And even if you do not belong to the risk group, it is important to minimize the risk you pose. It is very important that your employees take action at the slightest sign.
By phone
Since June 1st, 2020, the special regulation for reporting sickness by telephone no longer applies. Therefore, you either have to go to the doctor again as usual, or you can have a sick note made out online.
On-line
At Au-schein.de you can only get sick leave for a fee. The process is as follows: You fill out a questionnaire online, after which you will be on sick leave for an initial 14 days. The AU is available as a PDF. Regular inquiries via email will then determine whether your symptoms can be assigned to the covid-19.If this is the case, he will be referred to the responsible authorities.
Hopefully we have already been able to give you some answers to your questions. We will keep updating this article with new information. In order not to miss anything, you can also subscribe to our newsletter.
We are of course interested in your opinion on the subject. Feel free to write us a comment on your current situation, call our hotline or write to us in the live chat!
Share this post