Why is Mysore so beautiful
Mysore - so radiantly beautiful!
Oh, finally it was there. The WOW-Feeling that I always get when I do am overwhelmed by a place or experience. It grumbles so strange in my stomach (everything is purely positive) and sometimes I even get wet eyes. In the last 3 days I haven't done anything but through Strolling Mysore's streetsto feel my way to Indian cuisine and to relax in one of the best hostels in this backpacker world (known to me).
From Hampi to Mysore by bus
After another pleasant night on the bus, single bed for me, without air conditioning, but with a warm breeze of Indian summer air on my face, we reached Mysore around 7:30 a.m.. When I arrive in a city like this, I don't notice anything at first. I have slept, have not had a shower, first have to orient myself and am usually overrun by people who want to offer me their transport services. Not a really good start to the day - so stubbornly look straight ahead, or rather on the mobile phone and the destination clearly in mind - the accommodation.
This time I was lucky, because in Hampi I met a backpacker at the bus stop who also wanted to go to the same accommodation and so I could just join him. Alan is 29, Canadian, and has been traveling for 8 months, with the main focus on Europe and Asia. And then we stood in front of our new hostel, the Zostel Mysore ... ah, a old Indian mansionas you know it from the most cheesy novels. Big and spacious, wonderful floor tiles, lovingly decorated andnd clean!!!!
Update April 2018: Apparently the hostel in Mysore no longer exists. Nevertheless, I left the link to Zostel in there, as this provider is still in many other Indian cities.


We could also go straight to the room (6-bed room !, but I was lucky and max. 2 other people were in there, I was alone last night), shower and breakfast. This is one Franchise chainwhich also operates other hostels in India and Vietnam. I will definitely pay attention to that. Really, 5 Stars!!!!
Overwhelming architecture in Mysore
Once again, the architecture has me here speechless made. That's why there are a lot of house walls in the new pictures 😉 The city shines and shines very brightly. Of course it is full and there is a lot going on, but that's what I like right now. So I walk through the streets and can't stop being amazed and the laughter doesn't really go away from my face either.
The houses range from very old and shabby, about to decay, to colorful and modern - and some of them right next to each other. The old Colonial buildings are quite well preserved and mostly in government hands, e.g. as a university, hospital, administrative wing, etc.
In Mysore live scarcely 900,000 people and it is known for that Production of very high quality silk, Sandalwood and fragrances. The city is also considered to be one of the best spots in India for yoga. When I asked one of my Indian acquaintances whether yoga is actually practiced by everyone in India, at least if it is seen as a national sport, he just laughed and said "No, actually only a minority of Indians would do it."
Eat in style in India
In the evening we went to dinner with a couple of hostel friends, which was very good because two of them, thanks to their Indian roots, were very familiar with the menu. So it became true to style on one Banana leaf served and partly eaten with your fingers.
Typical India
Although I had already extended my stay for another day in my mind, I wanted to take care of the onward journey in the morning and then escape the heat in the palace at noon. Well, and then I had one of those typical India experience. Where should I start?
I went on foot to the bus stand for the inner-city buses, as there should be a tourist office here. That didn't exist there, however, and I was sent to the central bus station, kindly by bus, which then almost brought me back to the hostel because the bus station is only a few meters away. Ok, I got out and looked for the tourist office. You have certain ideas about someone like that Tourist Information - Lots of brochures, lots of people, lots of employees, air conditioning that is too cold, etc.
Far and wide there was nothing like that until I was sent to the last end of the bus station and in front of a "Barrack"Stood where nobody was! Except for an abandoned phone. I'm not so patient that driving back and forth for free wouldn't have annoyed me easily. When I called the telephone number given, I was told that I should buy the bus ticket directly at the counter, I only half understood the other information - that's really not that easy with Indian English, but I found out that he was in the office sitting at the train station.
Since I wanted more information and still had a bit of hope for brochures, city maps, tour recommendations, I made my way to the train station. Well, and then I stood there in a super tiny, gamely, little office, a toothless Indian across from me, who recognized me directly because he had only spoken to me on the phone shortly before, probably the only phone call this week, and far and not a single brochure, let alone a computer on which one could have made any bookings.
When I asked if he could book my bus ticket, he said that I should have done it at the counter at the bus station, which I just came from with nothing to do. But where he's right, he's right - could have gone straight to the counter. And now I was sitting here in this empty office, in the end I didn't get a single relevant piece of information. Well, I didn't book the tour that I actually wanted to book because the flyer looked so horrible and it couldn't actually turn out well.
That is how I was busy driving back and forth for three hours, my stomach was meanwhile in the back of my knees and I hadn't really achieved anything. As a reward, I got delicious fried food from the street stall and then, I don't know why or why, suddenly ended up in the changing room of a shopping center with a beautiful dress!
Hmmm, so much for the good intentions - but I urgently (;-)) needed something long, something that goes over my knees. With Show skin on the shoulders and a little neckline is not so bad here, but with For many, walking around shorts or a skirt is a reason to stare at you unrestrainedly. And that's why I needed this dress - and it's really sooooooo adorable ;-)!
A must see - the palace in Mysore
Which also absolutely adorable is, and me speechless made is the beautiful one Mysore Palace, who is also used for World Heritage belongs. Unfortunately, taking photos is forbidden, but since no one really stuck to it, I stealthily took a few photos from inside with my mobile phone. Really a architectural, artistic dream and certainly one of the most beautiful buildings I've seen so far.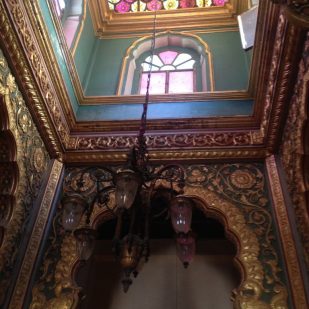 Tip: Chamundi Hill for sunset and food
In the evening we went to the Chamundi Hillto take a look at the temple there and the Sunset over Mysore to enjoy. I also moved from the locals to others Indian delicacies let persuade - fried dough balls un
d hot peppers (not sharp) With one Mint sauce.
Brightly lit in the evening - the palace of Mysore
The grand finale that day was the one again return to the palace. This will only on Sundays and public holidays for a few minutes in the evening tens of thousands of small lightbulbs illuminated. And today was one of those rare evenings. I stopped through the gate and literally left my mouth open - honest! It was like a fairy tale - fantastically beautiful. Unfortunately, my pictures do not even come close to reflecting this beauty and mood.
Devaraja market
Yesterday I took it easy
. I had to do a lot of research for the next stages and for Sri Lanka. So that I didn't dare to go out until the late afternoon Devaraja market, a typical Indian bazaar for accessories, floral decorations, sandalwood incense sticks, fruit and vegetables, the colored powder that is used for the bindi points that the Indians receive on their foreheads during the blessings of their respective gods
approx.
But I didn't want to go back to the hostel yet and since the light was so great again, I walked through the streets and ended up in front St. Philomena's Cathedral landed.
That's sureal - I walk several streets through Muslim area, the women are veiled, instead of cows there are now sheep and / or goats on the streets, and suddenly this huge, dominant, everything appears out of nowhere towering symbol of the catholic faith. When I think about it, all other religious sites, mosques, Hindu temples, Jain temples, etc. are significantly smaller in their construction.
It was nice in Mysore, but when it is at its most beautiful you should keep going. Next Stop Cochin - the bar is very high.
As always, here are the photos.