What is Google Web Designer
Google Web Designer
Google Web Designer solves problems: Many are familiar with the problems that flash-based applications are becoming more and more common. Banners or web applications of this format are not displayed at all or only incorrectly on many end devices. The Apple group has been distancing itself from this programming language for banners and the like for a number of years. And the internet giant Google is also joining the trend. But as always, switching from one programming language to another is a hurdle that must first be overcome.
To facilitate the transition and, above all, to drive it forward, Google developed the "Google Web Designer". The beta version of this program for Windows and Mac OS X is available free of charge on the Group's website. Google is primarily aimed at programmers of advertising banners in Flash format, as this division in particular still relies on outdated technology despite the trend towards HTML5. The tool was published on Google's own DoubleClick Advertiser blog and thus directly addresses the desired target group.
Google Web Designer: Free graphics tool for HTML5 animated advertising banners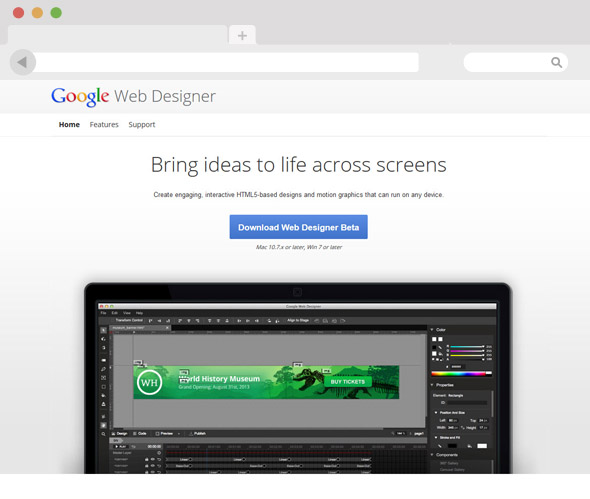 Mobile devices in particular are increasingly demanding HTML5, driven by software manufacturers Google and Apple. These devices play an immensely important role in the advertising industry. For this reason, it is particularly important that advertising banners work on all smartphones and tablets. This is not guaranteed when using Flash, especially with iOS devices.
So far, there have often been compatibility problems on end devices with different resolutions when programming advertising banners. With the large number of different browsers, platforms and tablet and smartphone sizes, it is becoming increasingly difficult to design a banner optimally for all devices. Google's Web Designer is said to be able to solve these problems for the first time.
According to Google's blog, the number of users of HTML5 compatible environments is already higher than that of Flash compatible environments. Measured in terms of sales, the new HTML5 technology should overtake Flash completely in the next two years.
Functions and advantages of the web designer:
Like almost all products from Google, the Web Designer is also available in full free of charge.
The creation of HTML5-based advertising banners should above all be simple and intuitive.
Despite the simplicity, the individuality and creativity are not lost: the code can be edited afterwards, the changes are immediately recognizable.
A regular update of the individual tools is not necessary, this happens automatically.
Creating advertisements for Google's DoubleClick and AdMob services is particularly easy, but it can also be programmed for other platforms.
Google Web Designer Appearance
At first glance, the program resembles similar software from Adobe. It combines aspects of graphic design such as color palette and level manager with those of programming languages ​​such as CSS. With this tool, Google ties in with products from other companies, but is out of competition due to its free availability.
Handling and testing
When creating a new document, you first select the resolution from a few selected presets, but you can also define the size yourself. In addition, the desired working environment can be selected right here, whereby either the Generic .html file, DoubleClick Studio Rich Media or an AdMob .html file can be selected. Google's web designer has two animation modes of different complexity. In the simple mode, individual scenes are animated one after the other, the advanced mode allows the advanced user to program different time axes for each element. In addition to the banners, the tool also offers the option of creating other projects (HTML, CSS, JavaScript and XML), which means that HTML5 banners can be added to the desired page.
The operation in the program does not surprise the user with major innovations. Everything behaves similarly to congruent programs. You place the desired elements in the environment and then animate them. If the graphic design options are not enough, you can always jump to the source code and edit it according to your own wishes.
The creation of shapes and text is similar to most image editing programs and is intuitive. Shapes can be created, the filling, size and border of which can be edited in a "Properties" tab. Layers can be moved forwards or backwards with one click. Alignment is also very easy thanks to a few selection options. There are also tools for three-dimensional processing of the individual elements as well as a pen function for creating paths and self-designed shapes. The result can be simulated with one click in the desired browser. The animations are controlled via a timeline at the bottom of the program, on which animation elements can be easily added or deleted.
The following video gives a good overview of the features:
Links to the Google Web Designer article:
You can download the Google Web Designer here ...
For detailed documentation click here ...