What's your favorite Irish beer
Invitation to St. Patrick's Day 2019
Celebrate St. Patrick's Day properly
Celebrate like the Irish who celebrate St. Patrick's Day on March 17th. Here luck is claimed for the whole year with four-leaf clover leaves and other symbols of luck. Traditional Irish beers are drunk in green clothes, such as the O'Hara stout from a real Irish brewery.

Where is St. Patrick's Day celebrated?
Originally a church festival in honor of the first Christian missionary, today not only Ireland but people all over the world celebrate St. Patrick's Day as a happy auspicious day. In the big cities like Berlin, the pubs in particular will look forward to a rush of party people when the beer is pouring again to celebrate happily.
Green illuminated Berlin radio tower for St. Patrick's Day
In order to honor the official national holiday of Ireland in Berlin, the Berlin radio tower will be illuminated green at night on March 17th.
Why the color green on St. Patrick's Day
Green is the color of hope and the coming of spring. It is reminiscent of the power of green plants and historically became a symbol of national identity during the Irish Rebellion in 1798, which can still be found today as a green stripe in the flag of Ireland.
Which beers are drunk on St. Patrick's Day?
Are of course popular Irish beers, how
or classic stouts. Buy beers from Ireland relaxed in the online shop. Or buy your favorite beers according to your taste and color them with green food coloring for St. Patrick's Day.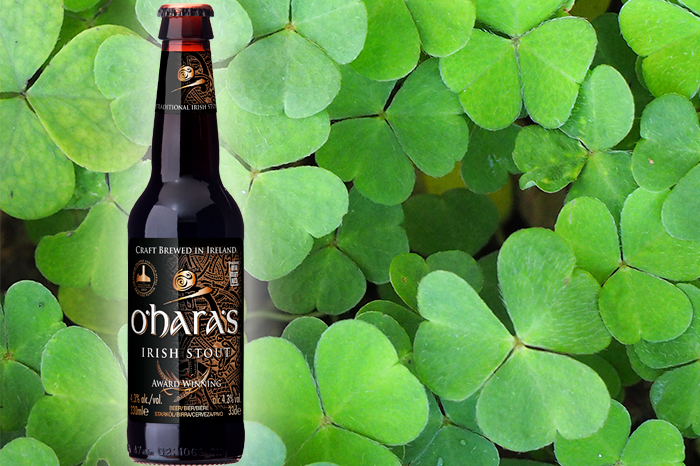 Which beer we recommend for St. Patrick's Day
Try O'Hara's Irish Stout with the soft fullness of real Irish stouts and the dark color of roasted aromas let you peek deep into the secrets of the green island of Ireland. The typical coffee and roasted aromas are beautifully balanced. Motto: "In a few beers I'll be Irish."

Only from 07.03. - 15.03.2019 10% discount on all beers in the Ireland category with the code: 9ZKDZ2 - can only be used once per customer.
Beer for St. Patrick's DayIrish BeerBeer from IrelandBeer for the HolidaysBeer for the Holidays