Are IIT students crazy about studies?
Wuttig: "Everyone benefits from foreign students"
More and more young people are coming to Germany to study. Around 250,000 foreign students are now enrolled at the universities. Even if it is clear that students from abroad are welcome, the universities complain about the costs that internationalization entails. A new study by the German Academic Exchange Service (DAAD) has now dealt with the economic benefits of mobility. The investigation was coordinated by Siegbert Wuttig, who is responsible for European university cooperation at the DAAD.
DW: Mr. Wuttig, in your study you show that foreign students are also an economic asset for Germany. Was there any doubt about that?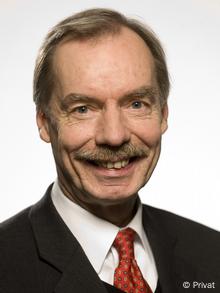 Siegbert Wuttig
Siegbert Wuttig: In times when you look more closely at the euro, especially when it is taxpayer money, you also have to justify more precisely what this money is used for. When it comes to mobility, we already have evidence of what it brings to students and universities, namely better career opportunities for students and more international exchange in teaching and research. In addition, the students later act as friends and ambassadors for Germany. However, there has not yet been a study in Germany on the question of the economic benefits of mobility. Other countries, for example in the Anglo-American region as well as the Dutch and Danes, have already shown this in studies for their countries.
Their calculations are based on the consumption expenditure of foreign students, which is around 1.5 billion euros. This expenditure is said to be the highest compared to the Netherlands, Austria, Poland, Switzerland and Spain. Why is that?
This is simply due to the size of the students who come to Germany every year. If you have 160,000 foreign students who come to Germany and who all have to pay for rent, food, clothing or literature, then that is of course much higher than in a country like Poland or Austria, where there are significantly fewer students from abroad . So it is not each individual who spends more, but rather the bulk of foreign students who spend their money in Germany.
When does your cost-benefit calculation apply? Do students have to stay longer in Germany and also work here?
For our study, we only took into account students who complete their entire degree in Germany. We were able to show that they also have short-term effects. That is the consumption expenditure of around 1.5 billion euros annually. They also lead to tax revenues of 400 million euros in the public budget, which corresponds to around 2500 euros per student. In addition, consumer spending leads to employment effects, because the goods that are bought and the services that are used have to be produced or offered, and that corresponds to around 22,000 jobs.
But there are also long-term effects if the students stay in Germany after their studies, pay taxes and have expenses. If we compare this with the costs for the provision of study places, the result is that these costs will already be amortized if 30 percent of the graduates stay in Germany for at least five years.
But is this even the case?
According to the Organization for Economic Cooperation (OECD), around 26 percent of foreign students stay here. The institute of the German economy comes to over 40 percent. So with 30 percent we are quite well in the middle, and that is a relatively reliable figure.
After the USA and Great Britain, Germany is now the most popular host country for foreign students worldwide. And politicians want this trend to continue. On the other hand, the scholarships for foreign students are to be cut significantly this year, against which the German Academic Exchange Service has already protested violently. What do you expect from politics now?
Our study clearly shows that it is worth investing in student mobility, not only in the mobility of German students going abroad, but also vice versa. It is an argument for politicians to think about whether one should actually put more money into this foreign mobility. After all, last year the federal government and the federal states set themselves the goal of increasing the number of foreigners studying and staying in Germany by a third. Our study now actually provides evidence that this is not only worthwhile for students and universities, but for the whole of German society.
The interview was conducted by Sabine Damaschke.