IT skills CV: 30 examples, classify, evaluate
- How to correctly evaluate computers and IT skills on a resume?
- Which representation is convincing?
- Our 30 examples will help you with the classification!
Collect important plus points by listing, evaluating and describing your knowledge. You can start with your application work at various points so that your CV becomes more persuasive.
For example in the presentation
- your foreign language skills,
- your training activities or also
- Of their IT skills, whose meaningful presentation we in this article illuminate more closely.
Practical tips: Use our 30 example résumés to get a concrete idea of ​​how computer and IT skills can be assessed and described in a much more meaningful way in résumés.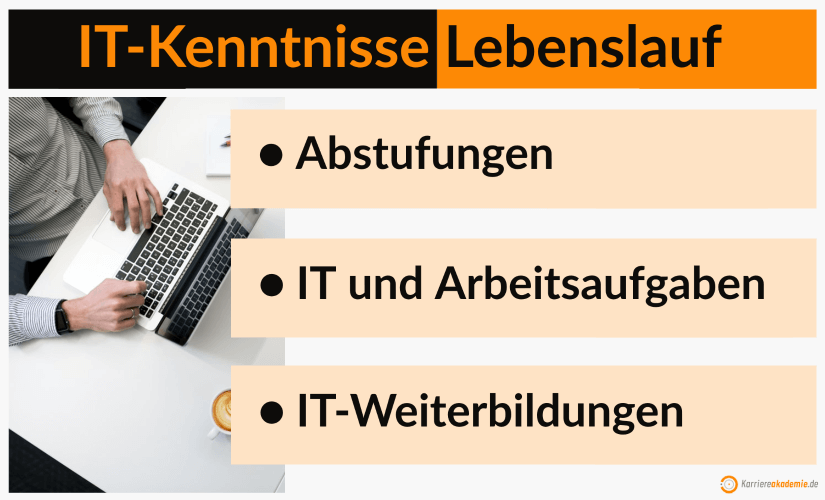 Strategy: optimally present IT knowledge
Basically, you will achieve more impact with your résumé if you explain briefly how you can use your IT skills successfully in your daily work.
A mere evaluation in school grades, which can be seen in many CVs ("very good", "good", "basic knowledge") is not particularly meaningful.
New job in view
Both in the written application and in the interview (free of charge: 100 questions) you should always argue based on the new tasks in your special professional field.
The quality of your IT knowledge is not a very abstract issue. It's about how you use computers, notebooks, tablets and smartphones to complete work tasks successfully.
Example "Office Professions"
In commercial occupational fields, for example, it can be more about evaluations under Excel, working with customer databases or presentations to customers using Powerpoint.
Example of "logistics professions"
Logistics and supply chain experts impress with their special experience in SAP and merchandise management systems.
Example "IT jobs"
And IT experts are skilled in so many operating systems, programming languages, general and special applications that they often have to practice the art of limitation when formulating the "IT skills" block in their résumé.
Or even create an extra page for all the software programs that you master and use.
Gradations: IT skills in the curriculum vitae
In our consulting practice, we read résumés and cover letters almost every day in order to optimize them.
Computer skills and language skills are often rated as "very good", "good", "basic". However, HR employees and recruiters find evaluations of this kind to be too brief and not very meaningful.
Immediately afterwards, in the following second example block, you will see how it can be done better and more meaningfully.
IT: Typical ratings
1.
MS Word: very good
2.
MS Word: Well
3.
MS Word: Basic knowledge
You can alternatively Use the following information to rate your IT skills in order to more impact to care.
We like to use formulations of this kind in CVs. Both when evaluating IT skills, but also when listing language skills.
The advantage is obvious, the description of the first two grades ("daily use" and "regular use") is much more graphic, you can see the applicant literally sitting in front of the computer and working with the program.
IT: More impact
4.
MS Word: in daily use
5.
MS Word: regular use
6.
MS Word: advanced basic knowledge
7.
MS Word: Basic knowledge

Use year data: IT knowledge in years
The combination of evaluations of IT skills with the indication of years ensures more meaningfulness in the résumé.
Applicants with professional experience, in particular, can often score points with double-digit years.
IT: years
8.
MS-Word: in daily use for more than 10 years
9.
MS-Word: in regular use for 7 years
10.
MS-Word: in use for 5 years
11.
MS-Word: in use for 2 years
Success thanks to IT: computer skills in action
If specific IT skills are expressly required in job advertisements, applicants can explain in more detail in their résumé how they use the desired software in their daily work.
IT and work tasks
12.
SAP FI: in daily use, especially for process analysis and improvement
13.
SAP FI: Development and further development of sales controlling
14.
MS-Powerpoint: Creation of customer presentations (key customers, trade fairs, events)
15.
MS-Powerpoint: regular elaboration of board presentations
16.
Logistics EDP: permanent adaptation and optimization of the inventory control system
17.
Logistics EDP: programming of special user tools
Tactics: New tasks and IT
You can also combine these classifications with the additional specification of years.
In the supplementary description, make sure that you do not only describe the focal points that were important for the last or current employer.
Instead, focus on the new job. You have real scope here that you should use.
Perfect fit
In our consulting practice, we have had good experiences with describing IT skills more meaningfully not just once in the CV.
Instead, we always adapt the presentation of IT skills in the résumé to the respective target position. Consciously address all special requirements of the job advertisement in your CV.
Because not only the cover letter should always be tailored to new employers, but also the résumé.

Years, work tasks and IT
18.
SAP FI: for 12 years, in daily use, especially in process analysis and improvement
19.
SAP FI: for 8 years, development and further development of sales controlling
20.
MS Powerpoint: for 15 years, creating customer presentations (key customers, trade fairs, events)
21.
Logistics EDP: for 7 years, permanent adjustment and optimization of the merchandise management system
IT experts: divide knowledge into blocks
Proven IT specialists should divide their knowledge into several areas as part of their IT application in their résumé. For example in "programming languages", "database management", "big data", "e-commerce" and "network technology".
Examples of IT block formation
22.
Programming languages:
- Java, SQL (always in use)
-mySQL, ABAP, VBA (very good)
23.
Database management
-TOAD (constantly in use)
-Oracle SQL Developer (very good)
24.
Big Data:
- Hadoop, Cloudera, Mahout (always in use)
25.
E-commerce
- Drupal (always in use)
- Magento, WordPress (both very good)
26.
Network technology:
- Cisco Prime, Cisco CLI (both in use for 10 years)
Certificates: Describe IT training courses in your CV
Further information on computer skills can be given in the IT curriculum vitae directly in the "IT skills" block or in a separate "Certifications and further training" block.
IT training in CV
27.
July 2018: Cisco Certified Network Associate, CCNA
28.
August 2019: SAP FI, ​​120 hours course
29.
02/2019: Cisco Certified Design Professional, CCDP
30.
04/2019: IT Infrastructure Library Certificate (ITIL)